Pet Travel Guide and Resources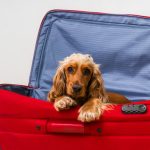 Pet Travel – Let's Go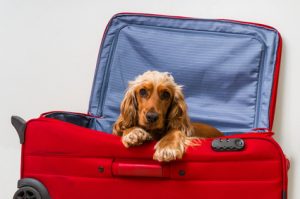 Today our pets are members of the family.  We can either take them along or make arrangements for them in our absence.  It is important to consider all the options when you include or leave your pet. When you travel with your pet a pet travel guide and researching the options will make sure the experience is both enjoyable for you and the animal alike. It's only natural that we want to keep them safe and happy.
When travelling with your pet it is vital to know the laws, guidelines, and safety rules for traveling with your pet.  Some people do not realize that travel to Hawaii with your dog could mean your pet is retained in an expensive quarantine center while you visit. It's best to know before you go.
Even when you decide to travel without your pet – important decisions need to be made.  From experience having a good friend or relative move into your home and be with your pet seems to be the most preferred option for most travelers.  Pets also are less stressed when they do not have to leave their home.  Even taking your pet to a relatives home can be stressful for your pet because they are afraid you may have abandoned them.  They do not always understand your travel itinerary and that you plan on returning.  Most pets have spent time without  you at home and do realize that eventually you will return.
Other options include Pet Hotels or pet friendly hotels.  These resources will allow you see if the hotels in your travels accepts pets along with its human guests.  It's best to know before you go and to make appropriate arrangements.
Pet Friendly & Travel Hotel Finders
Official Pet Hotels  This is a searchable database to find pet-friendly hotels around the world. Just enter your destination city or nearest airport to find accommodations for you and your pet.
Pet Hotels of America This is searchable database for pet-friendly hotels across the USA. You can also search for pet friendly attractions and events.
Pet Friendly Hotels  This is a directory provided by Choice Hotels to find pet-friendly travel accommodations wherever you're heading. This site also includes information about dog parks and you can see which U.S. cities are rated as the most dog-friendly.
Pet Friendly Hotel Directory This is yet another directory if you require yet an additional resource. On this site you can set your own search parameters or just scroll through the listings to find the perfect place to stay.
Tips and Travel Advice for taking your Pets
Many special considerations can include the time of year that you choose to travel, the type and age of pet you have, and how you'll be traveling.  The following guidelines include advice for keeping pets safe and happy no matter where you're going or how you plan to get there.  You should also consult your Veterinarian or pet's doctor as he or she knows the health of your pet.
Tips for Traveling with Pets From the Humane Society of the United States comes this guide to traveling with pets. Whether you plan to go by plane, train, car, or ship you'll find the right advice here.
Traveling With Pets FAQs The American Veterinary Medicine Association has addressed frequently asked questions to help you prepare for travel with your animal. There's great information about everything from what you should bring along on a road trip to which pets can go camping with you.
ASPCA Pet Travel Tips  The American Society for the Prevention of Cruelty to Animals has a website that is filled with vital information for pet owners planning to travel. There are safety tips and helpful hints to help make sure your pet enjoys the trip as much as you do.
Rules, Regulations, and Safety
The following resources include the laws that include precautions to ensure the safety of your pet when it comes to driving and flying with pets, and learn some seasonal travel safety tips as well. In addition to these resources you should check with the specific air carrier for additional information and associated costs. Also taking a pet from State to State may include animal health requirements specific for that destination.  Your local veterinarian can assist with the pet travel process and the timelines for obtaining a health certificate, updating vaccinations, diagnostic testing, or administration of medications/ treatments.
DOT Animal Travel Regulations This resource from the U.S. Department of Transportation allow you to see all of the official guidelines for shipping pets via airline.
FAA Guidelines and your Pet   If you intend to fly with a pet or a service animal, this resource includes links that provide information in order to help ensure that the animals and that you are able to travel easily.
Summer Safety Tips from the AKC The American Kennel Club site contains vital information and tips for traveling with your dog during hot summer months. This includes travel by car, plane, train, bus, and boat.
USDA and Pet Travel The U.S. Department of Agriculture's pet page has links about international and state laws regarding pet transport. You can also find out about import/export laws if you are planning on bringing an animal in from a foreign country.
Additional Resources
The following include helpful resources to help with trip planning and pet transport.
Travel check list and packing list  A comprehensive checklist to consider before you travel with your pet. You may not need everything and it may make you remember items to include.
USDA APHIS Veterinary Services Offices The USDA Animal and Plant Health Inspection Services department works to ensure quality veterinary care throughout the country. They are also responsible for endorsement of your pet's International Health Certificate.
There are many resources that can help you plan an enjoyable and safe journey with your pet.  We do hope that this article helps you in your travels with your best friend. Please feel free to share this pet travel guide article with your friends and family who have pets.